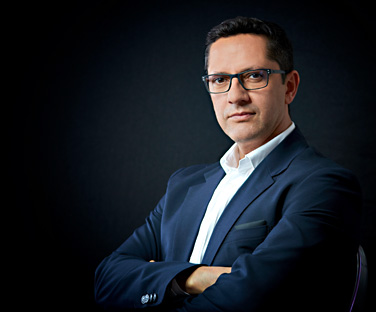 ARTURO GAMA
Arturo Gama was born in Mexico City in 1964, and studied dramatic arts and acting at the College of Letters of the Universidad Nacional Autónoma de México (UNAM). He trained as a ballet and modern dancer at the Instituto Nacional de Bellas Artes (INBA) and began working as a dancer in 1984 at the Ballet Independiente de México and at the Compañia Nacional de Danza in Mexico City. In 1989, he danced with the London City Ballet. In 1990, he joined the ballet company at the Tanztheater of the Komische Oper Berlin where he became a soloist in 1996.
His career transition began in 2001, when Professor Harry Kupfer asked him to be part of his team as a personal assistant for the production of Otmar Schoeck`s Penthesilea at the Teatro del Maggio Musicale Fiorentino. After that, he worked as assistant director and evening performance supervisor at the Komische Oper. During the next several years he worked with a number of prestigious opera, directors, including Andreas Homoki, David Alden, Calixto Bieito, Willy Decker, Peter Konwitschny and Hans Neuenfels. In 2003, Arturo Gama debuted as opera director at the Komische Oper, staging Strawinsky`s Histoire du soldat (The Soldier`s Tale).
Then Arturo Gama moved to Schwerin, where he was the principal scenic director of the Musiktheater at the Mecklenburgisches Staatstheater from 2005 until 2012. During this time, his work included the direction of Lehár`s Der Graf von Luxemburg, Offenbach`s La Grande-Duchesse du Gérolstein, Händel`s oratorium Samson, Mozart`s Così fan tutte, Puccini`s Tosca, Gianni Schicchi and Madama Butterfly, Charles Gounod`s Roméo et Juliette, Humperdinck`s Hänsel und Gretel, Bartók`s A Kékszakállú herceg vára (Bluebeard`s Castle), Donizetti`s Lucia di Lammermoor and Wagner`s Der fliegende Holländer and Tannhäuser.
Important additional projects during these years included directing Mozart`s Die Zauberflöte in 2009 as part of the Schweriner Schlossfestspiele.
In 2010, Gama was invited to stage Giuseppe Verdi's Attila for the White Nights Festival at the Mariinsky Theatre in St. Petersburg. The Mariinsky Label published this well-received production, under the musical direction of Valery Gegiev, on DVD in 2013.
In 2013, Der fliegende Holländer marked his celebrated debut at the Teatro Nacional de Bellas Artes in Mexico City. The production was part of a collaboration with the Festival Internacional Cervantino in Guanajuato.
In the fall of 2014, he will stage Verdi's Falstaff at the Teatro Colón in Buenos Aires.
PRODUCTIONS:
2013
Richard Wagner
THE FLYING DUTCHMAN
Ópera de Bellas Artes México

2012

Richard Wagner

TANNHÄUSER

Schwerin

2011

Giacomo Puccini

MADAMA BUTTERFLY

Schwerin
Wolfgang Amadeus Mozart
COSÌ FAN TUTTE
Schwerin

2010

Giuseppe Verdi

ATTILA

Mariinsky Theatre St. Petersburg
Gaetano Donizetti
LUCIA DI LAMMERMOOR
Schwerin
Richard Wagner
THE FLYING DUTCHMAN
Schwerin
Jacques Offenbach
THE GRAND DUCHESS OF GEROLSTEIN
Schwerin
Peter Maxwell Davies /
Henry Purcell
EIGHT SONGS FOR A MAD KING
Schwerin


2009

Béla Bartók

BLUEBEARD´S CASTLE

Schwerin
Giacomo Puccini
GIANNI SCHICCHI
Schwerin
Wolfgang Amadeus Mozart
THE MAGIC FLUTE
Schlossfestspiele Schwerin


2008


Engelbert Humperdinck


HÄNSEL UND GRETEL


Schwerin
Charles Gounod
ROMÉO ET JULIETTE
Schwerin

2007

Franz Schubert

LIEBE SCHWÄRMT AUF ALLEN WEGEN

Schwerin

Giacomo Puccini
TOSCA
Schwerin

2006

Georg Friedrich Händel

SAMSON

Schwerin, Paulskirche
Wolfgang Amadeus Mozart
MOZART WITH MENU
Schwerin

Franz Lehár
THE COUNT OF LUXEMBOURG
Schwerin

2003

Igor Strawinsky

THE SOLDIER'S TALE

Komische Oper Berlin